Preventative Grub Control
Due to increasing reports of grub activity and damage at many of our branches, we are offering an optional preventative grub control application during the summer 3rd application. The application is done at this time to prevent the most damaging feeding instar larval stage of the beetle which occurs in August, September and October in the Midwest. The residual activity of this application will last 120 days so it will provide season long control of any potential grub damage. This application will be at a nominal fee to cover the increasing and expensive cost of this control product. The prices are listed on the order form below. If you have experienced damage from grubs in previous years, please consider having this application done. Controlling grubs after symptoms of damage are seen is relatively difficult and much less effective. If you are interested in adding this optional but extremely beneficial service, please call your nearest branch so we can schedule this treatment.


GRUBS
Grubs are the white C-shaped larvae of various beetles, including Japanese Beetles, Asiatic Beetles and June Beetles that feed on grass roots, causing large patches of turf to wilt or die.

The Japanese Beetle grub is the most damaging grub in the midwest. Damaged turf can often be rolled up like a carpet due to the extensive feeding of the roots. The presence of birds, moles and skunks digging up the lawn is an indication of a high grub population.

The adult Japanese Beetle that takes flight in June, July and August is approximately 3/8 to 1/2 inch with metallic green heads and shiny bronze colored wing covers. The adult Japanese Beetle can do extensive feeding on the foliage of many flowering shrubs and various species of trees.
Naturescene
®
's Tree and Shrub Program can control the adult beetle damage. Below is a chart of this beetle's life cycle.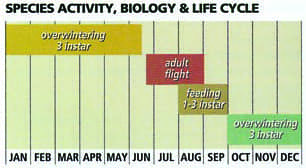 Growth stages: egg - grub instars (three stages)* - pupa - adult
* - treatable stages
Life cycle: 1 to 4 year life cycle
Sequence: grub - pupa - adult - egg - grub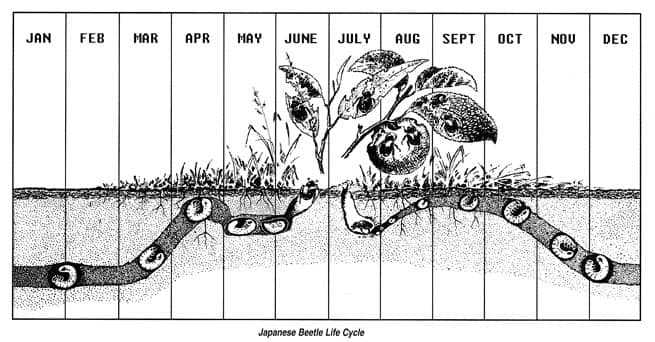 Prices For 2023 Preventative Grub Control
Lawns 5,000 sq. ft. & under -- $54.00
Lawns 10,000 sq. ft. & under -- $74.00
Lawns over 10,000 sq. ft. --
Contact your local branch
for pricing
The Naturescene® Guarantee
Your Naturescene® specialist is committed to making you happy with our service and your lawn and landscape. If you are not completely satisfied with the results of our services or you have any questions or concerns, please call your area branch office and we will be happy to take care of them free of charge within 72 hours.
At all of our 42 locations
Grow With Us On Facebook